At the start of the year, I decided to broaden my horizon and brush up on my management accounting skills (this is of course if I had any to begin with). I've been meaning to study further for several years now but never seem to have the time. And so finally, I resolved that it was this year or never. After all, what am I still waiting for?
But here's the hitch....in just less than 2 weeks, I am writing the dreaded exam.
And here I am with a sudden case of amnesia. My brain is simply dead. Empty. Not a single word can I remember reading.
This, after going through the whole book.
And writing a 40-page summary.
Which I'll probably never have time to go over.
'Cause every time I try to read it, my eyes just wanna close from boredom after the first 2 pages.
I'm still trying to drone words into my skull that don't particularly hold any meaning. Nor does it light a bulb in my head.
Time is running out indeed.
I am going to revision classes this weekend in the hopes of pumping my cranium with some much-needed information.
I don't think it will be enough. My brain can only take so much. But I'll try.
I feel bad because this is important to me and somehow, it just doesn't show that much right now.
And here I am still blogging about it when all I've been saying is I'm running out of time. I should be studying. And drinking lots of cuppa to stay awake......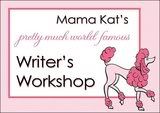 Aaargh!