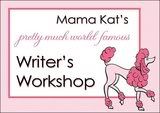 Today's Novice Blogging Note is some kind of special. Why you may ask?
Did you notice that it came out on a Thursday (when it's usually on a Wednesday)? There's a reason for that. Today's Novice Blogging Note is actually brought to you by
Mama Kat's Writer's Workshop
, who prompted me to write a post all about ME!
Well, okay, (hope I don't twist my tongue saying this) the prompt was about an ABOUT ME PAGE, not just all about
me
. But hey, any chance to talk about oneself is a good thing right? That's why we bloggers do what we bloggers do......
The About page was actually one of the first pages I did when I first started this blog not too long ago. And let me tell you, it was definitely one subject that was difficult to shut up about. It just went on a never-ending mode.....'cause you just know so much about yourself, don't you?
In the end, I decided to do
some
chopping....and
more
chopping. Chop! Hack! Slice! And voila! Check out the work-in-progress
here
....
The About page is very important to all blogs as it lets the readers:
- get to know you, the blogger, a bit better
- get to know what your blog is all about (duh!)
- get hold of you when they need to strangle you (lol!)
It has been more than 2 months since my About page has been published (far too long already if you ask me). Maybe it's time to spruce it up a bit. I wrote it when my blog was still unsure about its path or direction. Maybe I can add a section for my kids and hubby as blog experimental subjects or something. What do you think?
Any suggestions?